Buy & Register Domains
It all starts with a domain name.
New domain extensions
New domain extensions let you create an extra-catchy or location-specific name.
Bulk domain search
Use our Bulk Domain Search to find and register up to 500 domain names at once.
Transfer a domain
If you already have a domain name, you can transfer it to us for a one-stop experience.
Why you need a domain name.
The perfect domain lets people know at a glance why you're online (and why you're awesome). Find the right domain extension now to grab more attention and visitors.
Starting at
‪SG$1.58‬
On sale - Save
was ‪SG$54.34‬
Starting at
‪SG$29.99‬
On sale - Save
was ‪SG$80.99‬
Starting at
‪SG$9.99‬
On sale - Save
was ‪SG$29.99‬
Starting at
‪SG$2.93‬
On sale - Save
was ‪SG$61.10‬
Starting at
‪SG$2.99‬
On sale - Save
was ‪SG$25.23‬

2-year purchase required. 2nd year billed at ‪SG$25.23‬
Starting at
‪SG$1.99‬
On sale - Save
was ‪SG$48.99‬

2-year purchase required. 2nd year billed at ‪SG$48.99‬

Starting at
‪SG$6.99‬
On sale - Save
was ‪SG$36.75‬
Starting at
‪SG$1.58‬
On sale - Save
was ‪SG$21.87‬
What is domain name registration?
Nothing too complicated. It's the process of finding a web address (like GoDaddy.com or LilysBikes.com), and then signing up to use it. It's more like leasing a condo than buying a house. You technically don't own the domain, but once you've registered it, you're free to keep it as long as you continue paying the annual registration fee.
Find your perfect domain.
The first step is a domain name search for the best one that isn't in already taken. A .com domain is usually the most popular choice, but if you find that version of your domain is unavailable, don't worry. There are
lots of other domain extensions
(the letters right of the dot) you can use for some pretty cool combinations.
Learn why we're the largest registrar of domain names.
It's no accident we have 20+ million customers and 84+ million domain names under management. People might come here looking for a domain name, but what they find makes them stay for a lifetime.
Your one-stop tech shop.
Forget about jumping around the internet to get all the tools you need to succeed online. Find everything for your online presence in one place.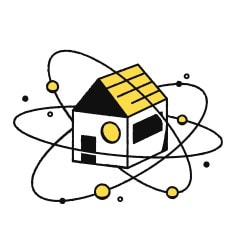 The technology you need.
We offer tools for nearly any online endeavor, from websites to email marketing. Best of all, our cloud technology is easy to use ⁠— and afford.
Award-winning customer support.
If you have a question about a domain name (or anything else that we offer) our web pros are standing by, ready to pickup the phone and help.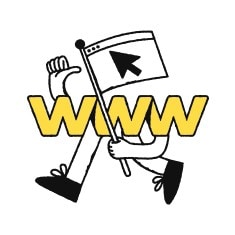 A worldwide community.
We're a place where 20+ million individuals from 58 countries can exchange ideas about conquering the internet.
Buy a domain name. Sell it for profit.
Imagine logging into work from the beach — or maybe just your couch. That's the life of a domain investor, and we can help you make your way doing the same thing.
Domain Investing
If you register a domain name and believe it's worth more than you paid, go here for resources to maximize your sale. You'll find a wealth of resources to get your domain investing career started the right way.
Discount Domain Club
Got the hang of buying low and selling high? Join the Discount Domain Club for amazing deals on the hottest domains on the market today. You'll get up to 60% off registration, as well as valuable tools at no cost.
Domain Auction
When you get your hands on a distinctive domain, join our Domain Auctions to make the sure you score top dollar on the open market. You'll get to list your own domains, as well as check what other domain names are fetching.
What's a domain name?

A domain name is the name of a website and typically consists of a top-level and second-level domain. A top-level domain (TLD) is the part of the domain name located to the right of the dot, with the most common TLDs being .com, .net and .org as they can be registered by anyone. A second-level domain (SLD) is the part of the domain name located to the left of the dot. For example, the SLD in 'coolexample.com' is 'coolexample'.

In addition to this - since web browsers need IP addresses to communicate with each other - each domain name has a unique IP address assigned to it, much like a street address. When someone enters your domain name into a web browser, the Domain Name System (DNS) translates it into its associated IP address, allowing the browser to locate it and then show you the

website associated with it

. If you own a business, GoDaddy can help you find a domain name that best suits the business so you can easily promote your website. We've covered everything you need to know in this extensive guide about what is a domain name and why they are important.

But GoDaddy isn't just about domain names. We've got everything you need to get online. From

cheap web hosting

and

email hosting

 to building your website and attracting new customers, GoDaddy has you covered.
How do I buy a domain name?

It's easy to get a new domain. Here are the steps:

1. Decide on a domain name extension. The extension is the part at the end of the domain name — .net, .biz, .org or .com, for example.

2. Think about what you'd like on the other side of the dot. It could be your business name or your specialty.

3. Type the domain you want into the box at the top of this page. We'll tell you if that particular domain is available and show other you may like better.

4. Pick a domain, add it to your cart and check out. You are now the proud owner of your very own domain. As long as it's registered to you, no one else may use it.
How long does my domain name registration last? How do I renew my domain?

How long your domain registration lasts can vary depending on the domain you purchase. Many domain name registrars will allow customers to register domains for 10 years at a time, but typically customers will register domains for one to three years.

If you want to extend your registration, it's easy to renew your domain with GoDaddy. You can choose to manually renew or set up auto-renewal, so you ensure it stays registered to you.
Got any tips on finding a good domain name?

You bet. While it's really easy to register a domain, having a good domain strategy helps you register the best domain name possible. Here are some hints:

Make it easy to remember. This is why many businesses get domains with their business names in them. Some people even choose their business name only after they have a domain they like.

Don't register one that's trademarked, copyrighted, or being used by another company. This can lead to losing the domain and legal problems.

Shorter is usually better because they're easier for customers to remember. It's also easier to get matching usernames for Facebook, Twitter and any other social media accounts you have.

Got a local business? Include your neighborhood, city or country in your domain so local customers can quickly see where you are. Check the list of geographic domain extensions — .berlin .nyc — to see if there's one for your area.

Avoid numbers or hyphens. Anyone who hears your web address won't know if you're using a numeral 5 or "five". If your business name has a number in it, register both versions — with the number and with the number spelled out (Dashes are just asking for trouble and generally look unprofessional).

Get more than one. As traffic to your website increases, you may attract then attention of copycats who'll snatch up similar domain names in hopes of drawing traffic away from you. Register similar or misspelled domains early so this won't be an issue later.